Hospital chaplain takes up post at Cumberland Infirmary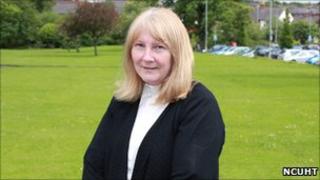 A new chaplain will take up post at Carlisle's Cumberland Infirmary this week.
The Bishop of Carlisle, the Right Reverend James Newcome, led a service at the hospital to licence Reverend Anne Roberts.
Originally from Kent, Mrs Roberts was ordained as a priest in 1996. She is currently healing adviser for the Carlisle Diocese.
A small multi-faith chapel is available within the Cumberland Infirmary.
Mrs Roberts said: "In hospital, we treat the whole person, the physical, the emotional and the spiritual."
She added: "I think more praying goes on in hospital, probably, than anywhere else, even in churches."
The Bishop of Carlisle is the lead Bishop on health care issues in England.