Cockermouth flood defences planned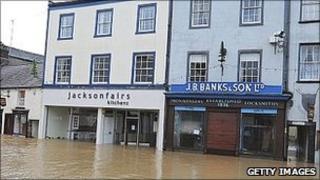 The Environment Agency has said it will work with residents of a Cumbrian town on the design for flood defences.
About 900 properties in Cockermouth were affected by devastating flooding in November 2009.
Plans for a flood risk management scheme are being considered and input from residents is being sought.
The preferred option is to raise sections of the flood walls and embankments along the rivers Cocker and Derwent in the centre of the town.
A feasibility study found this would reduce the risk of flooding to about 360 homes and 55 businesses in the town.
Craig Cowperthwaite, from the Environment Agency, said: "We will continue to work closely with the community throughout the design stage especially those directly impacted - such as those living next to the flood walls and embankments.
"We would, however, like input from people throughout the town, both those at risk and those not at risk from flooding, on how the designs should look.
"It's important to remember it is still early stages, and we don't want to raise expectations that a flood risk management scheme is definitely going to be built.
"However, with the help of the community, we are moving forward with proposals to increase the town's protection against flooding."