Carlisle Maternity Hospital errors: Boy awarded £7.9m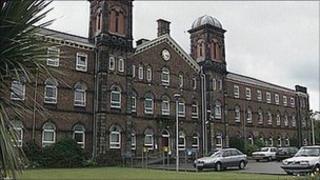 A Cumbria boy who was left severely disabled by hospital blunders during his birth has been awarded £7.9m in damages at the High Court.
The boy, now 12, who cannot be named, was deprived of oxygen during his mother's labour at Carlisle's former Maternity Hospital in 1999.
He now needs 24-hour care and will never be able to support himself.
At the High Court in London, NHS barrister Paul Rees QC offered the boy's mother an "unreserved apology".
Mr Justice Tugendhat approved a settlement between the boy's family and the North Cumbria University Hospital NHS Trust, which is now responsible for maternity services.
The settlement will come in the form of a £2.5m lump sum payment to pay for specialist equipment, with subsequent annual, index-linked and tax-free sums to cover the cost of his care for the rest of his life.
'Hard ride'
Mr Rees said: "Nothing can be done and nothing can be said to reverse this and, for that, we are truly sorry.
"In particular, his mother has faced a range of difficult issues. She has met all of those challenges with courage, determination, commitment and love to her son."
Speaking afterwards, the boy's mother said: "Our family has had a terrible few years and I have come close to placing him into care because of the lack of support from statutory services.
"To be put in that position with your own child is awful. It's been a hard ride."
Mr Justice Tugendhat told the court: "I would like to extend my personal sympathy to the mother and to give my very best wishes to her son and to the family."
North Cumbria University Hospital NHS Trust said it had no further comment.