Furness General Hospital failed newborn baby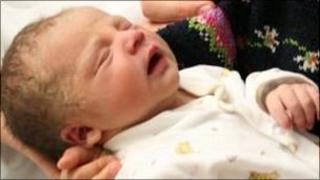 A south Cumbria hospital failed to spot that a newborn baby had picked up an infection which went on to kill him.
Joshua Titcombe died nine days after his birth at Furness General Hospital in October 2008.
An inquest heard he could have been saved had staff at the maternity unit acted sooner.
A health chief said he accepted Joshua's care had not been acceptable. In a narrative verdict, the coroner listed a number of care failings.
Joshua had contracted a pneumococcus infection during the birth.
Yet despite concerns raised by his parents, midwives did not involve a doctor for some time.
The inquest was told if he had been given antibiotics at birth, there would have been at least an 80% chance of recovery.
Coroner Ian Smith ruled Joshua died from natural causes and listed a series of failings by the maternity unit.
These included not listening to the parents, not recording proper notes, and not spotting the signs the baby was becoming seriously ill.
Tony Halsall, chief executive of the University Hospitals of Morecambe Bay NHS Foundation Trust, said: "Fundamentally we have always said we let Joshua down.
"We genuinely just did not recognise that the baby was as ill as he was.
"Everything we have done since has been based on our acceptance of our failures.
"We have put a huge amount of work into retraining midwives, we now use documentation which gives a much more rigorous assessment in terms of what type of things we have to record."
Joshua's father, James Titcombe, said: "It was a very thorough and detailed inquest, and we could not have asked for a more detailed and accurate summing up.
"We feel now that for the first time all the facts are on the table.
"We do feel that it can help us move on and put this behind us."