Gateshead submits city status bid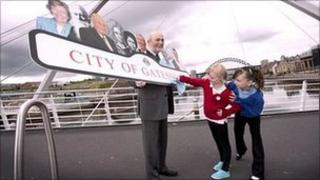 Gateshead has formally submitted its bid for official city status.
The town is one of a number hoping to win the title as part of the Queen's Diamond Jubilee celebrations in 2012.
It hopes cultural and commercial attractions such as the Angel of the North, the Sage Gateshead, the Baltic and Metrocentre will boost its case.
The Labour-led authority has sent a 22-page document to the Cabinet Office. If successful, the town would gain the same status as neighbouring Newcastle.
Being named a city does not bring any extra legal rights, but does confer significant prestige and can lead to increased investment in an area.
At the launch of the bid, council leader Mick Henry posed with local schoolchildren and life-sized illustrations of famous people associated with Gateshead.
These included engraver Thomas Bewick, author Daniel Defoe, inventor Joseph Swan, the sculptor Anthony Gormley, William Booth founder of the Salvation Army and Sir John Hall.
Councillor Mick Henry said: "Gateshead is an ambitious and forward-looking place and in these difficult economic times it's entirely appropriate that we look to the future and set ourselves a major and inspiring goal.
"We have fantastic assets, a remarkable history and we believe we are a city in all but name."