Cumbria reservoir is returned to nature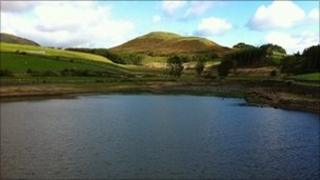 Work is under way to drain a reservoir in a Cumbrian valley and return it to nature.
Baystone Bank reservoir near Millom, which was built in the 1870s, was put out of service about 15 years ago by United Utilities.
Engineers are using an original map from the time to restore the original route of Whicham Beck, where a dam was built to create the reservoir.
Wildlife and plants have been removed so they are not damaged by the work.
Project manager Carl Sanders said they had used an 1866 Ordnance Survey map, which showed the original river bed.
Among the plants growing in the reservoir was rare spring quillwort, which has been removed and is being stored by the Windermere Freshwater Biological Association.