New Co-operative store to open in Dalston near Carlisle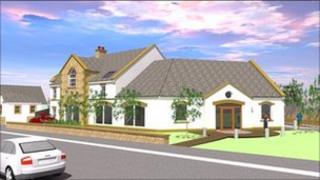 An English Heritage-approved Co-operative Food store is to be built in Dalston near Carlisle.
The 3,000 sq ft (279 sq m) shop, which has been designed to fit in with the local conservation area, is scheduled to open in February 2012.
It will replace the current store, securing the jobs of the 18 staff working there.
The store will include disabled access and on-site parking, and will bring some new jobs to the area.
The development, on the former J & D Blain garage site in the village centre, also includes three new homes, two four-bedroom apartments above it and a two-bedroom ground-floor property.
The new store will be about a third bigger than the Co-operative Food's existing Dalston store, which will be taken over by the Lattimer Group for commercial or residential use after the new building is complete.
The developers have worked closely with English Heritage to make the shop fit in with its surroundings, including a slate roof and stone walls.
Building manager Tony Young said: "You won't have seen a Co-operative Food store like this.
"It will complete the centre of Dalston and mirror the other buildings on the main square.
"We are a local Cumbrian company and we will be looking to work closely with the community in Dalston on this exciting project."