Red kite released in Grizedale Forest found shot dead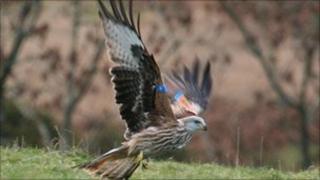 One of a group of red kites reintroduced into Cumbria after a gap of 160 years has been shot dead.
Thirty of the birds were released in Grizedale Forest by the Forestry Commission in the summer of 2010.
Rangers believe that 20 survived the winter, which is in line with natural mortality rates.
However, one has been found near Rusland shot dead. It is the second known shooting fatality, as one was discovered in Dentdale last August.
Red kites almost became extinct from England between the 16th and 19th Centuries because they were over-hunted and lost their habitats.
They are now protected under the wildlife act, and wildlife officers from the Cumbria force are investigating the incident.
Wildlife ranger Ian Yoxall, one of the team monitoring the kites, said: "It's just an old-fashioned view of the raptorial species of birds.
"A lot of people believe kites, for example, eat everything there is to eat, but they are actually scavengers mainly."