Nesting robins occupy sewer crane in Keswick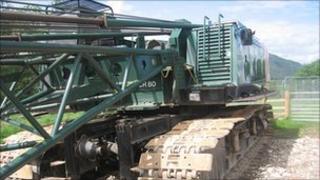 Workers on a £20m sewer project in Cumbria were forced to down tools when a key piece of hi-tech equipment was occupied by nesting robins.
United Utilities is carrying out construction work in Keswick and had been using a huge 80-tonne crane.
But contractors noticed the tiny nest with at least one chick as they were about to dismantle the machine and return it to a hire firm.
Company bosses have opted to leave the crane on site until the birds leave.
Work is now continuing on the project, which has another year to run.
Project manager Simon Povey said: "Contractors had lowered the arms of the crane and saw the nest inside.
"They did not want to disturb it because it looks like there is at least one chick in there.
"Unfortunately for us it looks like we need to keep the crane on site for a little bit longer.
"We're leaving the crane where it is until the babies have flown the nest and hope that next time she'll choose somewhere a bit more traditional."
The two-year construction project will help to improve water quality in the River Cocker and Bassenthwaite Lake.