Cumbria fell runner chases and catches alleged attacker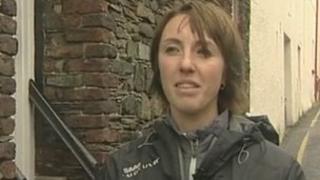 A former champion fell runner chased a man when he allegedly headbutted her friend in a Cumbria town.
Natalie White, 28, was in Keswick when a man got out of a van and confronted her and attacked her friend.
Miss White warned him she was a good runner and gave chase, catching up with him four minutes later.
Cumbria Police said a 24-year-old, from the Bolton area, was arrested on suspicion of assault and released on bail until 12 June.
Miss White, from Kendal, who is a former British women's fell running champion, said her decision to chase the man was instinctive.
"Luckily I had my running shoes on, as you do", she said.
"We were running through a car park in Keswick and bizarrely I just started shouting 'look you won't get away from me I'm a really good runner, just stop'.
"But he didn't. He just carried on."
The chase lasted about four minutes though the streets and alleyways of Keswick early on 8 May before he slowed down and Miss White and her friend managed to grab him.
Cumbria Police said they thanked the pair for their assistance but said they would not recommend such action as public safety was a priority.