Windermere Great North Swim organisers 'prepared'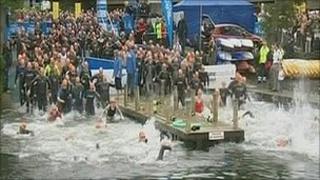 Organisers of the Windermere Great North Swim believe they are better prepared to deal with problems caused by a potentially toxic algae.
Last September's charity event was called off after the Environment Agency found the algae, which can cause sickness and rashes, in the lake.
In a bid to avoid a repeat, the 2011 event has been scheduled for earlier in the year, in June.
Nearly 9,000 people who were due to take part in the 2010 swim.
They had their money refunded or were offered a place in the 2011 event.
The one-mile, open-water event raises large amounts of money for charity.
It also attracts thousands of spectators, and provides a boost to the local economy.