Walks in the wild and industrial North Pennines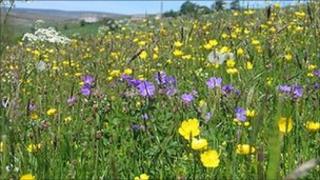 Walkers can explore the North Pennines and learn about the area's rich industrial heritage and geology on guided walks later in May.
The events are part of the North Pennines Partnership's Northern Rocks Festival held from 21 May to 5 June, celebrating the geology and landscape of the North Pennines.
On 23 May there is a guided tour of the Allenheads of the 1800s, once the biggest lead mine in the Pennines, and how it was used by Victorian engineers Thomas Sopwith and William Armstrong.
Walk leader and former director of the Killhope Lead Mining Museum, Ian Forbes said: "The water-powered technology that Sopwith and Armstrong brought to Allenheads was the very best Victorian engineering had to offer.
"It allowed this remote corner of the North Pennines to become the centre of the lead industry in England.
"We'll see how two Victorian entrepreneurs changed the face of Allenheads for ever and created a very modern idea, an industry powered by renewable energy.
"We'll also see how nature has mellowed those changes over the intervening 150 years."
'Full of history'
The Earl of Carlisle's Railway and Collieries will be explored in a Tindale Trail walk on 27 May.
Another local historian, Dr Iain Boulton, will give walkers an insight into the site of an innovative zinc smelter.
The route takes the group from Tindale to Coanwood to discover a heritage-rich and beautiful corner of the North Pennines.
Walk Leader Dr Iain Boulton said: "In the past people overlooked the upper-north-western corner of the North Pennines in favour of other areas, but that's changing and rightly so.
"It's an amazing place packed full of history, wildlife, culture and landscape, and this walk aims to address this by opening up a window on a fascinating industrial and social history.
"Over 200 years ago the Earl of Carlisle developed a whole series of collieries and quarries here, served by an innovative railway network that took away vast quantities of precious coal, limestone and whinstone to hungry local markets.
"There's so much of this rich history to see along the route, including remnants of a unique smelter works that links this area to nearby Alston Moor, some of England's greatest industrialists and Britain's attempt at the Space Race."
For further information visit Northern Rocks Festival website.