Cruise sea fall woman still in hospital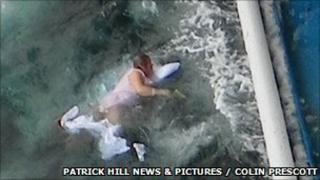 A Cumbrian woman who was dropped into near-freezing sea waters while being transferred from a cruise ship to another vessel remains in hospital.
Janet Richardson, 73, became ill on a cruise along the coast of Norway. After being treated on board, an attempt was made to transfer her when she fell.
She is being treated at Carlisle's Cumberland Infirmary.
Family friend Sheila Whitehead said she was "not too good" on Thursday but they were hoping she would improve.
She said: "She's not too good today, so we don't know how things are going to go.
"But hopefully she will improve again. We just hope for the best really."
Grandmother Mrs Richardson and her husband George, 78, from near Penrith, were on board the Ocean Countess, which sailed from Hull on 20 March, when she became ill with internal bleeding.
Boats moved
After being assessed it was decided that she would be taken to hospital on shore.
While rescue crews were trying to transfer the stretcher into a rescue boat, Mrs Richardson fell into the water.
Eyewitnesses said the boats moved apart and Mrs Richardson fell.
Mr Richardson told The Associated Press his wife was suffering from dizziness and low blood pressure when it was decided to transfer her to shore.
He said: "The stretcher went into the water and she fell into the water too as she was not strapped in.
"She had a life jacket on and I could see her swimming, treading water and trying to stay afloat."
It is believed she was immersed in near-freezing water for several minutes before she was rescued.
She was taken to the Norwegian port of Bodo and taken to hospital there before being transferred to the Cumberland Infirmary.