Sick Penrith woman 'dropped' in 'ice cold' sea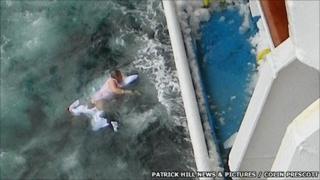 A seriously ill Cumbrian woman was dropped into near-freezing sea waters from a cruise ship as paramedics tried to transfer her to a waiting vessel.
Grandmother Janet Richardson, 73, was on a cruise along the coast of Norway when she became ill.
After being treated onboard, local paramedics were called. As they tried to transfer her to the lifeboat she fell into the sea.
She is currently being treated at Carlisle's Cumberland Infirmary.
It is believed Mrs Richardson was submerged in near-freezing temperatures for several minutes before she was rescued.
Mrs Richardson became ill on board the Ocean Countess after sailing from Hull on 20 March.
After being assessed it was decided she should be taken to hospital on shore.
Boats moved apart
Despite the ship being equipped with a helipad, a sea rescue was launched.
According to eyewitness reports, as the paramedics were moving her from the ship to the lifeboat, the boats moved apart and Mrs Richardson fell into the sea.
Colin Prescott, from Burscough, Lancashire, was with his wife Sheila on board the ship with the Richardsons.
He said: "The vessels, which hadn't been latched together, suddenly moved apart by several feet just as they were transferring her, which caused the rescue crews to drop the stretcher into the sea.
"We had been told the sea was about minus three degrees that day.
"The rescue boat came back round to pick her up and she was taken to hospital, but she was in the water for about eight minutes or so."
A spokesman for Cruise and Maritime Voyages, which operates the service, said Mrs Richardson was suffering from internal bleeding and an emergency call was made by the ship to the Norwegian Rescue Authorities.
He said: "A rescue craft was provided by the authorities and whilst the rescue crews were seeking to transfer the stretcher into the rescue craft Mrs Richardson fell into the water.
"Mrs Richardson was rescued and immediately transferred to the Norwegian port of Bodo, approximately two nautical miles away and was transferred to the local hospital."
Michael Tipton, a professor of human and applied physiology at the University of Portsmouth and an expert in cold shock immersion, said it was a "remarkable" survival.
"That she fell in that condition without any warning into ice cold, pretty rough sea and survived is an exception," he said.
He said 60% of people who died in cold water died in the first few minutes and the cause then was cold shock rather than hypothermia.
Cold shock is when skin temperature plummets, hyperventilation and heart rate and blood pressure shoot up which may cause cardiac problems or drowning.
Prof Tipton said there were a wide range of factors in someone surviving cold water immersion such as a person's health, age, body size and if they were used to being in cold water.
He said he would not expect long-term or physiological effects from the immersion but there could be psychological effects.
Cruise and Maritime Voyages said they did not own the ship, but confirmed a full investigation was taking place.
The Ocean Countess is part of the Majestic International Cruises fleet and is on charter to Cruise and Maritime Voyages in the UK.