Lake District ospreys find new nesting site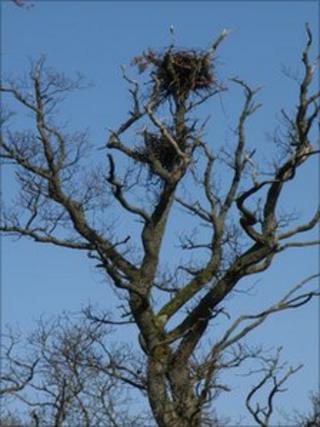 A pair of ospreys in the Lake District have abandoned a successful nesting site and relocated to a new home.
Experts were left baffled when the birds switched from their nest of three years to a new site at Bassenthwaite.
Ospreys are normally faithful to successful nest sites, so the move was a shock for staff at the Lake District Osprey Project (LDOP).
It is only the the second time the birds have changed nest in the project's 11-year history.
It is thought the fish-eating birds moved to be nearer their food supply in Bassenthwaite Lake.
The new site is still visible from a viewpoint at Dodd Wood, where cameras relay images to the public at a nearby visitor centre.
Nathan Fox, from the LDOP said: "We have been working closely with local landowners and farmers to make sure that the birds are fully protected and therefore have a good chance of raising their chicks.
"Although the new nest is on private land visitors can still enjoy the birds from the viewpoints at Dodd Wood, and staff and volunteers are on hand at Whinlatter Visitor Centre to keep visitors informed of the ospreys' story."
The male bird, known as No Ring, came to Bassenthwaite in 2001 and was the first to nest in the Lakes for 150 years. The female is the one he paired up with for the first time in 2007.
It is hoped the birds will rear an 11th generation of young. Last year two male chicks were produced.