Experts build picture of Roman settlement in Cumbria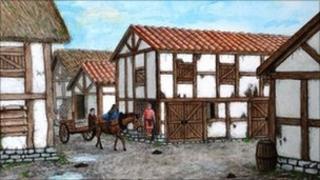 Archaeologists working on the site of a Roman settlement in Cumbria have released details of how it might have looked in its heyday.
The site, near Brougham, was discovered in 2008 by United Utilities engineers excavating for a sewage pipeline.
It included remains of timber buildings and streets, and is now believed to date back to the 1st Century.
A team from Oxford has been examining the site, which is believed to be a civilian settlement attached to a fort.
During their excavations, archaeologists uncovered artefacts including gaming counters, jewellery, coins and drinking vessels.
The settlement has been named Brocavum and experts are now preparing a detailed analysis of the findings.
There are also hopes that there will be a permanent home for the artefacts in a local museum.
'Absolutely fascinating'
John Zant, Oxford Archaeology North's Roman specialist, said: "The settlement was only occupied for 100 years or so, around AD 200-300.
"Buildings were constructed of timber frames infilled with wattles and clay but in order to inhibit decay, the walls were raised above the ground on low sandstone foundations."
The pipeline has now been completed and United Utilities project manager Connell O'Donnell said engineers worked hand in hand with archaeologists.
"I don't think anyone expected to find quite so much archaeology," he said.
"It was absolutely fascinating and we still managed to get the pipeline finished on time."