Chef Matthew Lucas jailed for stabbing Brampton couple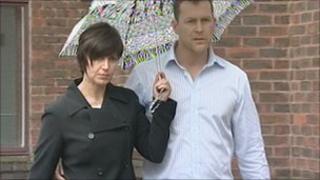 A chef has been jailed for at least 13 years for stabbing a couple as they slept after a house-warming party at their Cumbria home.
Matthew Lucas, 40, pleaded guilty to the attempted murder of police officer Sally Roythorne, and Robert Plevin in Brampton on 23 May.
Carlisle Crown Court heard that Lucas of Chapel Street, Penrith, had no memory of the attack.
He was given an indeterminate sentence with a 13-year minimum tariff.
The hearing heard that Lucas had been a friend of the couple for many years, and was a guest at the party.
When most of the other guests were asleep, he went into the kitchen and got a knife, then attacked them in their bedroom.
Ms Roythorne, 36, suffered 18 wounds to her head and face.
Mr Plevin, 41, was stabbed twice in the neck. His life was saved by friends at the house who stemmed the bleeding.
Cumbria Police spokesman described it as a "highly unusual" case.
He said: "There is no motive we have been able to establish, no clear motive, which has troubled all those involved in the case."
Speaking after the sentencing Mr Plevin said: "The ten months since the attack has been incredibly traumatic.
"While we bear no anger towards Matt Lucas we are satisfied with the sentence and now feel we can start putting our lives back together."