Derrick Bird police 'weakness' criticised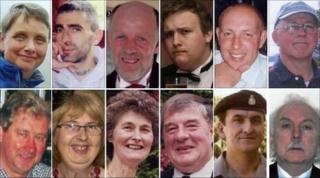 Police in Cumbria have been told that their response to gunman Derrick Bird could have been better.
There were chain of command problems at first and the police and ambulance service did not work together well enough, an independent report found.
Derrick Bird shot dead 12 people before killing himself on 2 June last year.
The report said the force's response to the shootings was "reasonable" overall, however, and commended the bravery of officers during Bird's rampage.
West Mercia Police's assistant chief constable Simon Chesterman, who wrote the report, said the shootings were not preventable.
After a four-week inquest hearing, a jury returned a verdict of suicide on Bird and unlawful killing on his 12 victims.
ACC Chesterman had told the inquest ambulance crews were told not to treat the injured until the area had been made safe.
He highlighted this again in the report and also discussed how there was confusion between the police force incident manager and the tactical firearms commander about who was in charge at one point.
The report said that, as Bird was not located during this period, the failure to have a single tactical commander had not become a critical issue.
However, it stated: "This would not have been the case if he had been located and the officers required specific command advice."
ACC Chesterman said: "Events of this magnitude are thankfully rare and would challenge any police force, regardless of size. On this occasion geography was a major factor."
He praised the force for putting the search for Bird above the first aid of injured victims and deploying sufficient armed officers into the area in a short period.
'Unprecedented scale'
The bravery of officers who entered the woods after Bird was also commended.
He said the geography of the area had posed particular challenges and recommended the force review its impact on the deployment of armed response vehicles in future.
In response to the review, Chief Constable Craig Mackey said the force was in the process of implementing ACC Chesterman's recommendations.
He said: "This was an incident of unprecedented scale and severity, so it is inevitable that there would be lessons learned.
"We will now share ACC Chesterman's findings with police forces nationally so that we can all benefit from his observations and implement changes that will improve the police force's ability to protect local communities."
The force confirmed the overall cost of the operation and the detailed investigation that followed was £304,532.
This included staff and travel costs and mutual aid from other forces.
The cost of the inquests to the force was an additional £47,500.