Police 'lost' Derrick Bird due to roadworks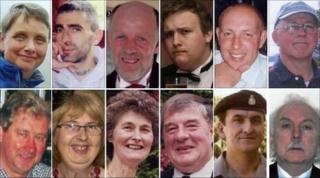 Armed police chasing Derrick Bird during his shooting rampage passed his taxi coming the other way and then lost him due to roadworks, an inquest heard.
When the gunman started his killing campaign, the two officers who normally patrolled the area were in a police canteen in Penrith, 40 miles away.
The 52-year-old taxi driver killed 12 people and injured 11 in west Cumbria on 2 June last year.
After spotting Bird, the two officers did not have time to draw weapons.
"I shouted at Pc Laverack 'that's him, that's the driver, that's the taxi,"' Pc Lewis told the inquest at the Energus centre in Workington.
Pc Phillip Lewis and Pc Andrew Laverack, who were manning the armed response vehicle (ARV), drove round a bend at 60mph to be confronted by Bird's silver Citroen Picasso coming the other way.
But by the time they had turned around and been delayed in the roadworks, Bird had vanished.
Lethal force
Prior to this the two were in the canteen at Cumbria Police HQ in Penrith waiting for minor repairs to be carried out on their Volvo ARV.
Both armed officers first got information about the shootings at about 1030 BST while in Penrith and they were immediately given authority to use lethal force if necessary to stop Bird, the inquest heard.
Pc Lewis recalled the first time he saw Bird in the taxi, as they saw him pass the other way.
He said: "I remember being surprised as I expected a person who had just shot and killed someone to be driving at excess speed and erratically, but he was just driving at normal speed for the road conditions."
After realising Bird had passed them, Pc Lewis slammed the brakes on, turned the car around and followed the gunman, but they were then held up by roadworks.
Pc Lewis said communications with police control and other officers was "difficult" during the chase as airwaves kept "jamming" and he could not immediately radio in the initial sighting of Bird's car.
"I found this quite frustrating," he added.
Radioed sighting
PC Laverack told the inquest because of the speed of the encounter with Bird they did not have time to even draw their guns.
"Due to limited time, the time I had to draw and bring my weapon to bear, the vehicle had gone past us," he said.
They radioed the sighting of Bird to HQ at 1133 BST but just over a minute later sent another message reporting they had lost sight of him, Pc Laverack added.
By this point Bird had headed for the Eskdale Valley where he would open fire on six more random targets, injuring three people, before shooting himself dead.
The inquest continues.