Tribute to crash death Honister slate mine owner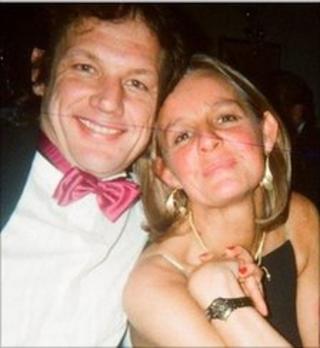 A Cumbrian businessman killed in a helicopter crash has been described by his partner as her "soulmate".
Father-of-three Mark Weir, 45, who ran Honister Slate Mine in Borrowdale, near Keswick, died when his Gazelle aircraft crashed near the mine on 8 March.
His partner of 27 years Jan Wilkinson, said Mr Weir was known to many as a "hard-nosed" businessman but to her he was "compassionate and loving".
His funeral takes place on 21 March at St John's Church, Keswick, at 1300 GMT.
Ms Wilkinson said: "Mark was generous, compassionate, loving, funny, adorable and energetic.
"He always had a glass half-full mentality. He had an effect on people, a positive effect.
"Even though he wouldn't sometimes get home from work until 2.30am, he always wanted to get up and say goodbye to the kids before they went to school, or have a cuddle in bed with them."
On the night he died, Mr Weir phoned Ms Wilkinson to say he was about to board his helicopter at the mine and would be home shortly.
She said: "He phoned me and said: 'I'm just ringing to say I love you' I said 'I love you too darling and I'll see you soon'.
"The unexpectedness of the phone call was typical Mark."
When he failed to return to his home in Cockermouth, Ms Wilkinson rang the Cockermouth and Keswick Mountain Rescue Team.
Mr Weir was a fully-trained pilot with decades of flying experience.
Ms Wilkinson added: "We never realised how many people admired, loved and were touched by Mark.
"The hundreds of cards, phonecalls, flowers and e-mails has amazed us. I would like to think Mark would have been embarrassed by it, but I can't because he would have loved it."
An investigation is under way into the cause of the crash.