Pilot killed in Cumbria helicopter crash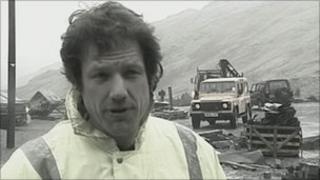 The owner of a Cumbria tourist attraction has died in a helicopter crash.
The family of Mark Weir, 45, who ran Honister Slate Mine in Borrowdale, near Keswick, raised concerns on Tuesday night when he failed to return home.
Police and mountain rescue teams found a helicopter crashed near the mine early on Wednesday.
His family said they were "totally devastated" by their loss and tourism leaders paid tribute to Mr Weir.
Father-of-three Mr Weir had left the slate mine in his helicopter but when he failed to return to his home in Cockermouth the alarm was raised by his wife.
Cockermouth and Keswick Mountain Rescue Teams were involved in the search along with Cumbria Police.
Mr Weir was found dead in the helicopter at the scene.
'Spirited dynamism'
Visitors to Honister can take guided tours into the mine, where slate is still extracted.
A Honister spokesman said: "Mark was a charismatic Lake District legend with a lust for life and a giant personality.
"He was passionate about everything he did from fatherhood to flying and business.
"He loved questioning authority but won many doubters over through sheer force of his personality."
He said he loved flying and was a fully-trained pilot with decades of experience.
"He is irreplaceable both as a man, a son, a father, a partner, a businessman, a boss and a human being," he said.
Cumbria Tourism chairman Eric Robson said Mr Weir would be enormously missed.
He said: "Mark brought such a spirited dynamism to the debate about creating a thriving tourism economy in the Lakes.
"He genuinely loved Honister and the community of Borrowdale. He was rooted there and wanted to do the best for them."
An investigation is under way into the cause of the crash.