Cumbria farmer 'unchanged' by £1m Roman helmet windfall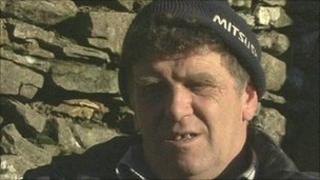 A farmer who became a millionaire when a Roman helmet found on his land sold for £2m, says the windfall has not changed his way of life.
Eric Robinson took half of the cash while two metal detector enthusiasts who found the helmet at Crosby Garret, Cumbria, took the rest.
Mr Robinson said his only major expenditure had been the purchase of homes for his two daughters.
A mystery bidder bought the helmet at Christie's in London in October.
The piece, thought to have been worn by soldiers at sports events, was expected to fetch £300,000.
Carlisle's Tullie House Museum was one of the bidders, but was not successful.
A father and son from Peterlee in County Durham found the helmet last May.
Mr Robinson told the BBC's Inside Out: "About seven years they have been coming round looking for treasure and found nothing.
"When they found it they immediately though it was something to do with the Romans.
"I just know about sheep and cattle, I have no idea about what happened to the Romans or any history whatsoever.
"So I left it in their hands to do whatever they thought was the right way to go about things."
Mr Robinson said the find had been largely welcomed by villagers in Crosby Garret, near Kirkby Stephen.
He added: "People have been pleased that it has been found here and it has brought a bit of excitement to the whole village.
"But as for changing us, it hasn't changed us at all."
Inside Out is on BBC1 in the North East & Cumbria at 1930 GMT on Monday.