Suspended term over Cumbria axeman prank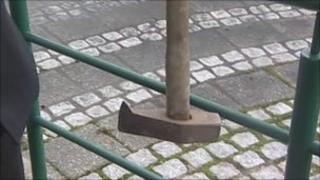 A man who faked an axe attack on his partner to frighten youths who had parked near his Cumbrian home has been given a suspended sentence.
Magistrates heard there had been a history of anti-social behaviour near Hag End Farm, at Crook, near Kendal.
John Powell, 28, wielded an axe while chasing Lucy Walton, 27, who was smeared with ketchup, past the car.
He was given a 84-day sentence suspended for 12 months and ordered to complete 250 hours of community work.
Walton had been given a caution after admitting a public order offence.
The mock attack happened in October 2010.
One of the three teenagers inside the car, which had parked in a lay-by near the farm, said he had never been so terrified in his life.
Potentially dangerous
Powell had tapped on the window with the 4ft axe and rattled the door handle.
He had previously pleaded guilty at South Lakeland Magistrates' Court to two charges of possessing an axe in public and using behaviour likely to cause distress.
His solicitor, Judith Burbeck, described it as a prank which went "extremely badly wrong".
Presiding magistrate Ann Nelson said that because he had the axe it was a potentially dangerous situation and crossed the custody threshold.