South Cumbria marshland focus of search for missing man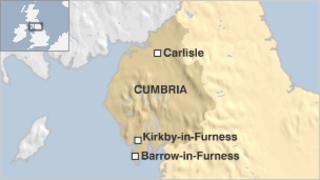 A search is continuing for a man missing on marshland in south Cumbria.
The man, 53, was hunting wildfowl on Angerton Marsh near Kirkby-in-Furness before being reported missing by his son on Saturday morning.
About 60 people are involved in the search, including coastguard crews, an inshore lifeboat, an RAF rescue helicopter and mountain rescue teams.
A spokesman for Liverpool Coastguard said lighting equipment had been brought in to aid rescuers.
Rising tide
He said: "Three men, a father and son and a friend, were out shooting wildfowl at a pre-arranged time and location, when the father of one of the men failed to appear.
"The alarm was raised as the tide began to sweep in to flood the marshes.
"The missing local man is wearing chest waders and camouflage top with a snood.
"He has his gun with him and had last been heard firing at around 9am."
The spokesman said the helicopter crew had been able to search at a "fairly low level".
At 1900 GMT a decision was made to continue the search and a request was made for the rescue helicopter to carry on until at least 2100 GMT.
The coastguard spokesman said flares were being used in an attempt to attract the attention of the man in case he remained in the area.