Drilling rigs in search for water in west Cumbria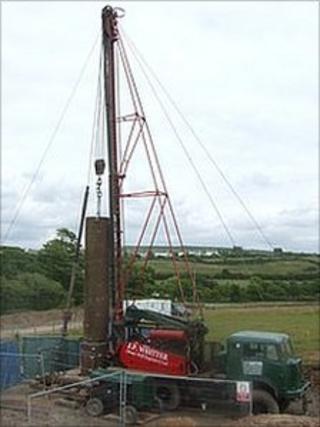 Engineers have begun drilling for water in an area of west Cumbria.
Experts from United Utilities have sunk four boreholes, each about 390ft (120m) deep, in fields south of Egremeont.
It is hoped a sandstone aquifer could eventually yield at least seven million litres of drinking water a day - enough to supply about 46,000 people.
The multimillion-pound project is aimed at reducing demand on Ennerdale Water, which is used for most of the drinking water in the Whitehaven area.
Phil Merrin, groundwater manager with United Utilities, said: "At the moment most people in Whitehaven and the surrounding area drink water that comes from Ennerdale.
"European directives require us to reduce the amount of water we currently take from the lake to protect important protected species, particularly in the River Ehen which has been designated a Special Area of Conservation.
"This is the start of a long-term project to re-evaluate the way we deliver water in this special part of Cumbria.
"We reviewed a wide range of possible options for new water supplies in conjunction with the Environment Agency.
"One good alternative source is the sandstone aquifer in the Egremont area and that is what we are tapping into. We may need to look at other potential sources in future too."
Samples will be taken between now and March.
An Environment Agency spokesman said: "To ensure that there is sufficient water supply for people, we have been working with United Utilities to find alternatives, such as from groundwater sources, to protect public supply without having an impact on the environment."