Co-op plan for Penrith's threatened Lonsdale cinema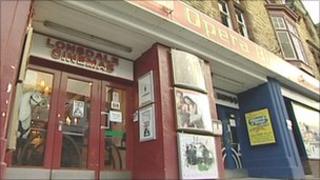 Campaigners hoping to save a 100-year-old Cumbrian cinema have said they are confident they can raise the £750,000 needed to buy the site.
Although the Lonsdale Alhambra cinema in Penrith is profitable, the bingo hall next door is not and its owners want to rent out both sites.
Owners Graves (Cumberland) have agreed to sell if the cash can be raised.
Thousands of cinema-goers are being asked to invest £150 each so the Lonsdale can be run as a co-operative.
Graves (Cumberland) originally said the cinema would close on 3 March. But the company has extended this until the end of April.
Campaign organiser Dawn Coates said at least 5,000 "shares" would need to be sold to raise the money needed to buy the cinema.
She said: "This seems a feasible figure to propose at the moment, although we are still working out the exact details.
"We have already had a lot of people pledge money to the campaign with some going as far as offering £10,000. So I think it is more than possible that we can raise the cash.
"We are in the process of putting together a business plan and a full valuation of the site so we can go forward."
Almost 3,000 people signed a petition earlier this month when the campaign to save the cinema was launched.
A statement from Graves (Cumberland) said every effort had been made to make the bingo hall a success but this had failed and resulted in a knock-on effect on the cinema.