Further funding for flood damaged Cumbria roads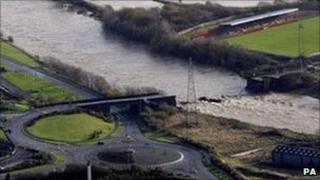 The government has pledged an additional £5.4m to repair roads in Cumbria damaged by the 2009 floods.
Regional and Local Transport Minister Norman Baker made the announcement during a visit to Workington.
The funding will cover the cost of ten vital road and bridge maintenance schemes.
The flooding, caused by unprecedented rainfall, resulted in damage to homes, businesses and infrastructure, amounting to £276m.
Norman Baker said: "Reliable local highways are vital to communities; providing people with links to work, shops, services, families and friends.
"Last year's flooding in Cumbria damaged many roads and I know how important it is to people in the local area that these repairs are made.
"I am delighted to announce this government funding which will support Cumbria County Council's vital work of repairing roads and bridges damaged by flooding."