Hundreds of illegal vehicles seized by Cumbria Police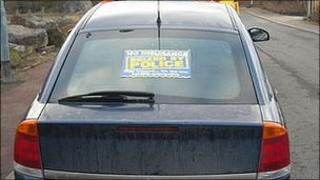 More than 400 illegal vehicles have been seized by police in Cumbria over the past year, in a bid to improve safety on the county's roads.
Under the Road Traffic Act, officers have the power to remove uninsured or unfit vehicles, or where the driver has an unsuitable licence.
A total of 433 were taken, with 49 in May, the busiest month.
Owners faced prosecution and had to pay costs for their storage and return. Vehicles not recovered were destroyed.
Insp Andy Wilkinson from Cumbria's Roads Policing Unit said: "As well as the criminal consequences of driving while uninsured or without a licence, irresponsible drivers commonly cause collisions which means that all road users are put in danger.
"To tackle this issue, officers around the county conduct routine patrols of our roads with the intention of stopping illegal motorists in their tracks to make the lives of law abiding road users safer.
"The purpose of seizing vehicles is to remove illegal, and in the majority of instances unroadworthy, vehicles from our roads."