Work starts on south Cumbria mental health unit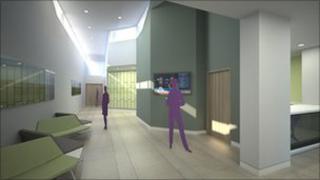 A turf-cutting ceremony has marked the start of work on a mental health "centre of excellence" in Barrow.
Cumbria Partnership NHS Foundation Trust is carrying out a £6.5m revamp of the Dane Garth site at Furness General Hospital.
The 20-bed ward is being replaced by 20 en-suite single rooms, a gym and sensory area.
The facility will also eventually house the dementia assessment unit from Gill Rise in Ulverston.
It aims to help staff deal with more challenging problems, and limit the need for patients to travel to Carlisle or further afield for treatment.
Furnishings and interior design are based on evaluations conducted by The Kings Fund, which have been shown to maximise the therapeutic benefit.
Barry MP, John Woodcock and Bryan Betteron, chair of Cumbria Partnership NHS Foundation Trust, carried out the official turf-cutting ceremony.