Carlisle park swan deaths investigated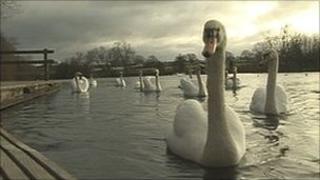 Government scientists have been called in following a spate of swan deaths at a park in Carlisle.
Over the past few days the bodies of nine of the birds have been found at Hammond's Pond in Upperby Park. They appear to have no physical injuries.
Park rangers have said they have never seen so many fatalities and described it as distressing.
Experts from Defra are now examining the carcasses in an attempt to determine cause of death.
Tony Box, one of the park rangers, said: "It's quite distressing.
"We don't know whether to put it down to the hard winter, the weather or the lack of food."