Burgh by Sands village hall revamp runs out of money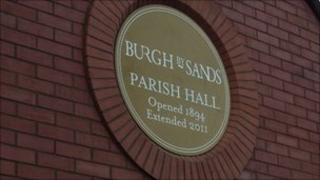 Work to revamp a north Cumbria village hall has been halted after the project ran out of money.
Problems arose when archaeologists found ancient pottery and human remains on the site of Burgh by Sands village hall in west Carlisle.
Work had to be halted while the remains were dug up, delaying the project and leaving it with a £40,000 shortfall.
Now project trustees are appealing for funding help to make up the shortfall.
The £420,000 refurbishment complete with new coffee shop, which was mainly funded by the Big Lottery Fund, was due to open in two weeks' time.
But the Lottery Fund said it was unable to give any more money from its Community Building Fund.
Fundraising appeal
The building site is close to Hadrian's Wall, and archaeologists needed to check the ground, where they found the remains and artefacts.
A spokesman for the Trustees of Burgh by Sands Village Hall said: "The work is almost completed as it just needs the finishing touches.
"Efforts to deal with the problem are underway, with appeals being made to national and local funding bodies, as well as the launch of a fundraising appeal to the local community.
"The parish council has also been approached in the hope that a loan can be secured and repaid - a step taken by other village halls in Cumbria."
The hall, which hosts youth clubs, badminton, indoor bowls and an art club, has been closed since June 2010.