Memorial plan unveiled for flood-hit Workington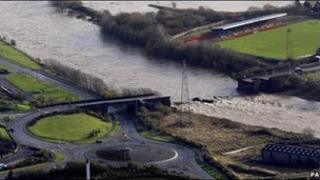 Town residents in Cumbria are to erect a memorial to mark the impact of devastating floods which claimed the life of a police officer.
Pc Bill Barker died when Northside Bridge in Workington collapsed in November 2009 during torrential rain.
Hundreds of people also had to leave their homes during the devastation.
Residents will be asked what memorial they would like during drop-in session at Hawkins Bazaar, Pow Street, on Wednesday and Thursday.
Cumbria County Council and Allerdale Borough Council are organising the sessions and want to hear people's views.
Councillor Tony Markley, the county council's cabinet member for highways, said: "The floods had a massive impact on Workington and we want those affected to identify suitable ways in which the disaster can be permanently remembered for generations to come.
"People giving their views have helped shape designs for the replacement bridges, so we wanted to enlist the help of the local community again and allow them to play a key role in remembering as well as moving forward from the floods."