Plans to replace flood-hit bridge in Cumbria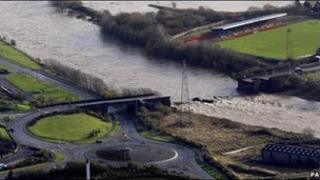 Work is to start soon on building a temporary crossing at the site of a partial bridge collapse in Cumbria caused by the devastating 2009 floods.
Bouthray Bridge, which spans the River Crake near Coniston, was severely damaged by flood waters and has been out of action since.
Negotiations are still ongoing with English Heritage about how to repair the Grade II Listed stone structure.
Work to build a temporary pedestrian crossing is due to start on 26 January.
Tony Markley, Cumbria County Council's cabinet member for highways and economic development, said: "We are putting in this temporary footbridge to minimise inconvenience for local people as we recognise the closure of Bouthray bridge has caused disruption.
"At the outset of the summer we were optimistic repairs might be completed by the end of this year, however this unfortunately wasn't possible due to the length of time it has taken to resolve issues relating to both the design and the planned work.
"Bouthray Bridge is a listed structure and a number of additional environmental considerations have had to be factored into the planning process.
"This unfortunately means we missed the Environment Agency window for repairs to be undertaken before the end of 2010 so permanent repairs cannot start on site until sometime in June 2011."
Construction work on the temporary bridge is expected to last for about 10 days.