End to free car parking in parts of Lake District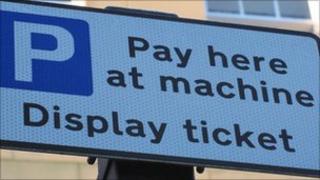 Motorists using four Lake District car parks, which have until now been free, are to be charged in an effort to boost national park authority coffers.
The Lake District National Park Authority has already signalled job cuts as it struggles to find savings following a cut in government grants.
Now it is to introduce charges at car parks in Ravenglass, Finsthwaite, Thirlmere and Windermere.
It is estimated the charges will bring in about £26,000 a year in revenue.
Car parks operations manager David Coxon said the authority had a duty to review all of its charges for additional income.
However, he admitted that a consultation process had attracted "significant local opposition" to the plan.
A two-hour stay will now cost £1.80, with a four-hour stay costing £2.80.
'Commercial return'
Mr Coxon said the authority currently operated 16 pay-and-display car parks, which generate about £1.2m a year. It also manages 30 other car parks which are currently free to use, but which had the potential to bring in extra revenue.
He added: "We understand that these new parking charges will not be popular, but we do have a duty to manage our property portfolio in a way that brings in the best commercial return."
The car parks affected are Ravenglass - a large village car park with space for 92 cars and 12 coaches - and High Dam at Finsthwaite - a small, unsurfaced car park with the capacity for 28 cars.
Station Coppice - a small lay-by area off the A591 overlooking Thirlmere and Hammarbank - will also be affected.