Public sector protest over cuts in Cumbria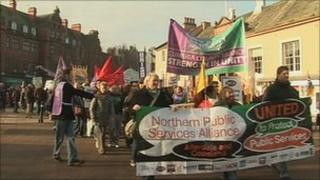 Public sector workers took part in a rally in Carlisle to protest against planned budget cuts and job losses.
Teachers, nurses and firefighters were among about 300 trade union members who gathered in the city on Saturday.
They are angry at spending cuts which are likely to see at least 600 Cumbria County Council staff lose their jobs over the next four years.
The event, organised by the North West Regional TUC, urged the government to reconsider the pace of spending cuts.
TUC northern secretary Kevin Rowan, said: "Cumbria faces some of the toughest economic and social challenges in the country.
"It is a deceptive mix of idyllic countryside and deeply impoverished communities. Some of the towns in Cumbria experience the highest levels of worklessness and deprivation in the UK.
"The government's savage cuts are seriously undermining Cumbria's ability to recover from the financial crisis."
Cumbria County Council, which is a Conservative and Labour-controlled administration, has said tough choices are needed to make savings of about £50m over the next four years.
A public consultation on saving options will run until the end of January and a final report will be drawn up by February.
Among the proposals are introducing charges for on-street parking in city and town centres and tourist destinations, and reducing the number of household recycling centres.