Skeleton woman died three to six months ago, tests find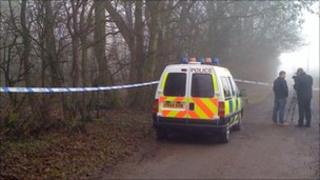 A woman whose skeleton was found in a disused quarry in north Cumbria died between three and six months ago, initial tests have found.
A police investigation started when the skeleton was found by a member of the public in the Gaitle Bridge area, north of Carlisle, on Tuesday.
Forensic examinations have been carried out on the skeleton, which is still at the scene.
A large area of woodland near where it was discovered has been cordoned off.
Cumbria police said they had been working with other police forces around the country and looking at missing person reports.
Lothian and Borders Police confirmed it was liaising with the Cumbria force, but said it would be inappropriate to comment further until a formal identification was made.