Human skeleton found in disused quarry near Carlisle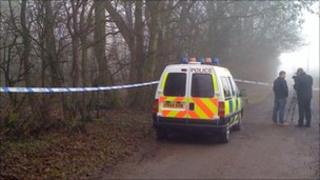 A human skeleton has been found in a disused quarry in north Cumbria, prompting a police investigation.
A member of the public made the find in the Gaitle Bridge area, north of Carlisle, on Tuesday afternoon.
Detectives are attempting to determine the age of the remains, thought to be that of a woman, the cause of death and the person's identity.
The area remained cordoned off on Wednesday while forensic examinations were being carried out at the scene.
Lengthy process
Barry Thomson was walking his dog when he found the skeleton.
He said: "Normally it's overgrown but this time of year you can actually see where you are going and there have been sightings of otters so I just went in to have a look to see what I could find.
"And I came across some remains which at first I thought was a swan, a dead swan, and then I thought it was a sheep.
"And then I went to investigate a little bit further, went down to it and came within 5 or 6ft and identified it to be human remains in my opinion.
"So I came back to the house and immediately phoned the police."
Det Ch Insp Jeff Ashton, who is leading the Cumbria Police investigation, said that it could be a lengthy process.
"I've been involved in cases like this where it's taken a week or two weeks to remove the body," he said.
"I don't anticipate it will be a quick job, examining the scene and removing the body."
He said they were working with colleagues around the country and looking at missing person reports.