University of Cumbria campus in FE course transfer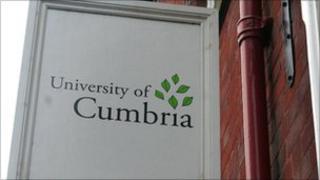 Further education courses at a university campus in Cumbria are to be provided by a local college, in a move aimed at saving millions of pounds.
The courses at the Brampton Road Campus of the University of Cumbria will be transferred to Carlisle College from the start of the next academic year.
Staff are discussing the situation with trade unions.
A decision on the academic future of further education provision at the Newton Riggs campus, is still awaited.
The move will cover 14 courses in the area of art and design, and media and performing arts, but higher education courses will not be affected.
For a number of months the University of Cumbria has been working with the Skills Funding Agency, the Young People's Learning Agency and Cumbria County Council to identify a partner to take over further education provision at the Brampton Road site.
In July 2010 the university decided that it was not economically viable and did not fit with their higher education aims to continue to deliver further education provision from August 2011.
It expects to save between £2m and £3m per year as a result of these changes.
Carlisle College principal Moira Tattersall said: "I am delighted with the news regarding the decision on Brampton Road."
The Skills Funding Agency is expected to make a decision in early February on the future of further education provision at the Newton Rigg campus.