Family pay tribute to man found in Cumbrian park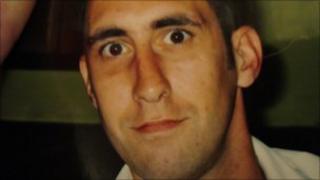 A family have paid tribute to a 36-year-old man who was found dead in a Cumbrian park.
Christopher James Greer - known as Jamie - was discovered on Saturday in Hammonds Park, Blackwell Road, Carlisle.
An investigation was started into his death but police said there were no suspicious circumstances.
His family described him as "quite a character" who was "loved by all who knew him."
His sister, Carly Greer, 31, said: "Words cannot possibly express the pain and anguish my family are going through having heard the shocking and tragic news of my brother's death.
'Greatly missed'
"Jamie was quite a character and was loved by all who knew him.
"He will be greatly missed by me and my mam, his two daughters Stacey and Danielle; and all of the friends and family he was close to.
"This has come as such a shock and I don't think my family will ever fully come to terms with his death.
"I would also like to thank everyone for all their kind messages of support and condolence which have been of great comfort to myself and my mother. To be truthful the news hasn't really begun to sink in yet."