Campaign against memorial move in Wigton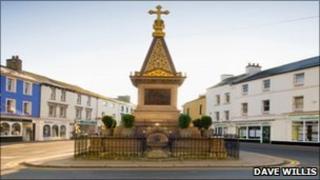 A campaign has been launched against proposals to move a memorial fountain in a Cumbrian town centre.
Cumbria County Council has suggested the move due to the planned arrival of a new Tesco supermarket in Wigton.
The council said, as a result, a new road layout would be required which could affect the memorial's position.
It said a number of proposals had been considered including moving the memorial a few yards or relocating it to a car park.
The memorial, currently standing in the market place, was erected in 1872 by George Moore, the High Sheriff of Whitehall, in memory of his wife, Eliza.
It was designed by architect James Knowles Snr and made of granite. Above each of the fountain's four bronze reliefs is a small carving of the face of Mrs Moore.
Mr Moore served an apprenticeship at a drapers in the town and later became a wealthy manufacturer.
The council said all proposals would be discussed with the public prior to any decision made.
Move concern
Wigton Town councillor Debbie Stafford is one of those leading the campaign opposing the move.
She said: "It should not be moved, it should be left where it is. There is as much concrete underground as there is on top.
"My concern is, will it survive a move, even just a few yards. I don't think we should take the chance. I have not met anybody who wants the fountain moved. "Everybody wants it left where it is."
She said the council was considering moving it to Water Street car park.
But she believes the memorial could be vandalised there, and would take up valuable spaces the council "claim they need revenue off".