Day temperatures in Carlisle hit record low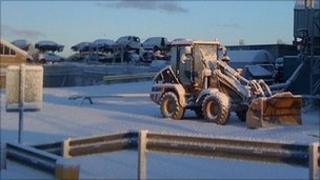 Carlisle has experienced its lowest daytime temperature, as the cold spell continues to affect Cumbria.
According to the Met Office observing station, it dropped to -7.9 (17.8F) on Wednesday.
This beats the previous daytime record low of -6.8C (19.7F), which was only set in January.
The average daytime temperature in Carlisle in December is 7.3C (45F), so it represents a 15 degree negative departure from the mean.
A Met Office spokesman described it as a "notable statistic".
Although the county was continuing to be affected by snow and icy weather, fewer school closures were reported on Thursday.
Drivers are continuing to be warned to take care on the roads, especially the high passes.