Cumbria coach crash cyclists were brothers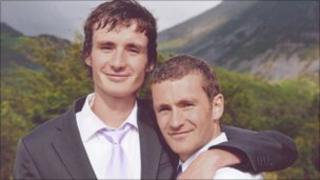 Two cyclists who died after a collision with a coach in Cumbria were brothers, police have revealed.
Christian and Nicholas "Niggy" Townend were riding along the A595 at Moota when the crash happened shortly before 1500 GMT on Sunday.
The coach was travelling in the same direction towards Cockermouth, a police spokesman said.
Both men died at the scene. The coach driver was arrested on suspicion of causing death by dangerous driving.
The 42-year-old, from Carlisle, has been released on bail until February.
Cycling passion
Christian, 29, and Niggy, 21, had been returning home after cycling in the Silloth area when the collision occurred.
The pair were the eldest and youngest of a family of four brothers, also including Richy and Robin. They all grew up together in Lorton and Cockermouth.
Christian and Niggy shared a passion for cycling, a sport at which their family say they were both experienced and talented.
Speaking on behalf of the family, their mother Eleanor, said: "My beautiful sons were loved by all who knew them. Their zest for life and lively sense of humour never failed to bring us joy.
"They shared a love of the outdoors and the local area. They will be greatly missed and never forgotten."