Families pay tribute to Carlisle crash victims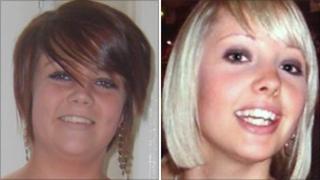 Tributes have been paid to two friends who died in a crash involving their car and a Royal Mail van in Carlisle.
Beautician Jessica Lakin and beauty therapist Grace Simpson, both 19, died in the collision on the A595 at Newby Cross on Thursday.
Miss Lakin's family said she was "loved by all" and Miss Simpson's mother Carole said she was "kind-hearted."
The women were travelling to work in Keswick when the accident happened. The van driver was not injured.
A statement on behalf of the family of Miss Lakin, of Crosshill Drive, Morton, Carlisle, said: "Jessica was a typical teenager who enjoyed travel, spending time with her boyfriend of three years and meeting up with her friends of which she had many.
"Jessica attended Carlisle College for three years and qualified as a beautician which made the whole family very proud.
"She was travelling to her new job at Armathwaite Hall Hotel when this accident happened. She was loved by all."
Miss Simpson, of Prescott Road, also worked at the hotel, and was the passenger in the Peugeot 206 driven by Miss Lakin.
Her mother Carole said: "She loved her job as a beauty therapist, so much so that nothing stopped her going to work, even snow and ice, which sadly cost her her life.
"Despite being just 5ft 3in tall, Grace knew how to stand up for herself but underneath she was a big softy who would do anything for anyone.
"She was kind-hearted and loved being with her family."
Cumbria Police said the 46-year-old van driver from Carlisle was not hurt in the crash.