Wintry weather causes disruption in Cumbria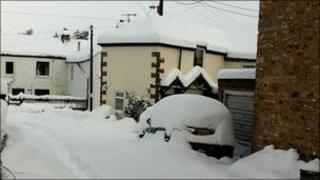 Wintry weather is continuing to cause disruption in Cumbria with schools closed and problems on the roads.
About 30 schools were forced to close because of dangerous conditions.
A number of high passes remain closed, including Kirkstone and Hartside, and drivers in the county have also been hit by the closure of the A66 at Bowes.
Temperatures plummeted in the early hours, dropping to -9C (16F) in Shap and -8C (18F) in Carlisle with nowhere expected to rise above freezing.
Forecasters said there would be more snow later, particularly in eastern parts of the county and on higher ground.
However, lower-lying western areas which are also sheltered by the Pennines are not expected to be so badly affected.