Ex-Navy ship HMS Invincible in website auction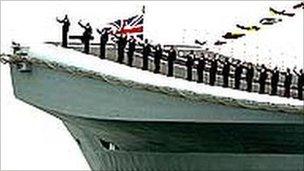 HMS Invincible has been put up for auction on a military disposal website.
Invincible is being sold by the Disposal Services Authority, which says it has secured receipts of more than £900m for the MoD in the past 16 years.
The Barrow-built light aircraft carrier, which has an estimated metal weight of 10,000 tonnes, will "almost certainly" be sold for scrap, said naval expert Jon Rosamond.
HMS Invincible was decommissioned after 25 years' Royal Navy service in 2005.
Mr Rosamond, editor of Jane's Navy International, said: "It has been offered by the MoD for non-warlike purposes.
"Even if someone did want to take it on as a going concern it would never be used as an aircraft carrier again."
Work began on Invincible at Barrow in 1973 and the ship entered active service seven years later.
Prince Andrew was on board Invincible as a Sea King helicopter pilot during the Falklands War.
Bids for the ship, which is based in Portsmouth, have to be in by 5 January.
Related Internet Links
The BBC is not responsible for the content of external sites.