Nuclear waste storage sites view sought in Cumbria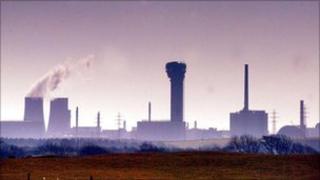 People in Cumbria are being asked for their views on plans to bury nuclear waste in the county.
The government wants to find a permanent home for the waste currently stored at Sellafield.
The government has urged communities to "volunteer" to take it. So far the only place expressing an interest is West Cumbria.
Local councils involved, Copeland, Allerdale and Cumbria County Council, stress no commitment has been made.
A number of consultation sessions are taking place but environmentalists are sceptical about the impartiality of the consultation.
'Benefit Cumbria'
Ruth Balogh, from West Cumbria Friends of the Earth, described the invitation to join the consultation as "tokenistic."
She said: "I do not believe we can have a voice in a process in which the nuclear industry is so dominant."
The Labour MP for Copeland, Jamie Reed, supports the idea of the waste repository being in his constituency, because "it would benefit West Cumbria enormously".
However, he argues "a decision would have to be made by a referendum, not by politicians".
It is believed a decision on whether to move forward to site selection, will happen in early 2012.
Even then, scientists could still conclude that Cumbria is unsuitable as a repository for such high level waste.