Snow disrupts Cumbria schools and roads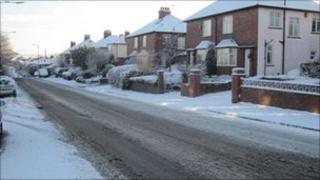 Snow is causing problems in Cumbria with hazardous driving conditions on some roads and a number of schools shut.
Main roads were clear but tricky conditions were reported on some routes including the A595 in Whitehaven.
Sellafield said it was running at minimum safety staffing levels earlier.
Day staff at the nuclear plant were asked to stay at home to help ease congestion around the site but by midday full operation had resumed.
More than 30 schools around Cumbria were closed.
Some mountains rescue teams were asked to provide back-up to the ambulance service.
Cumbria County Council said no major routes were closed but motorists were advised to take care.
It said its team of 30 gritters had been working "round the clock" to keep roads clear.
Some library services were disrupted with a number of branches either closed or shutting earlier.