Workington Port gains £5.7m investment boost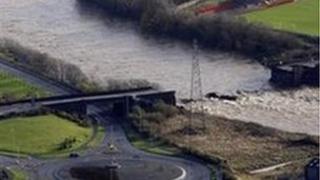 The Port of Workington is to undergo a £5.7m improvement programme.
Funding is being provided by the nuclear industry. The move promises to open up a regular trade route for local businesses with the rest of Europe.
It comes in addition to £4m spent on repairing the port's infrastructure, damaged in the floods of November 2009.
The project is being led by Britain's Energy Coast and will include infrastructure improvements and a new container handling facility.
The Nuclear Decommissioning Authority (NDA) is contributing £1.7m to infrastructure improvements.
Nuclear Management Partners (NMP) is contributing £4m to the scheme, to create a new container handling facility, including the installation of a new harbour crane to enable the port to handle large shipping containers from all over Europe.
"Bold statement"
John Clarke, the NDA's executive director of business planning said: " It's a fantastic example of the public and private sectors working in partnership, both in terms of funding and delivery."
NMP's head of socio-economics, Gary McKeating, said: "This is NMP's first significant infrastructure investment and will enable the port to offer a better, more regular service, to enable existing companies to develop their businesses."
Eddie Martin, leader of Cumbria County Council, which owns the port, said the upgrade of the port's facilities was a "big and bold statement" that Cumbria had global ambitions.
He added: "At a time when all the talk is about cutbacks and reductions, the port is bucking the trend with this ambitious project to build on its status as a major hub for transport and trade."