Praise for troubled city academy in Carlisle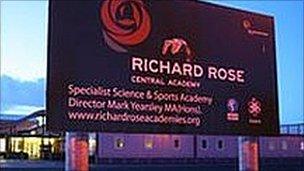 A troubled Carlisle school has been taken out of special measures almost two years after government inspectors said it was failing pupils.
In January 2009 Ofsted inspectors found the Richard Rose Academy had poor leadership and attendance and was not properly communicating with parents.
A new management team was brought and a new head teacher, Russ Wallace.
The Ofsted report described the new team as "good" and "effective" and Mr Wallace as "forthright and pivotal".
Mr Wallace said: "Before becoming involved I can remember watching the fabric of this school unravelling before our eyes.
"It was very sad to see how badly the parents and pupils of this school were being let down.
"Over the last 20 months I have worked with some of the most inspirational pupils, parents, staff, community members and leaders, who, like me, were desperate to make things right."
The school is federated with the city's Central Academy. Both have one governing body and a joint sixth firm.
The Ofsted report said: "Leadership and management are good. The vigorous and forthright leadership of the head has been pivotal in bringing about changes.
"Leadership of the sixth form is authoritative and proving very effective.
"Suitable middle leadership structures and systems are in place, but more consistency and rigour are required in their implementation before they can improve teaching and students' progress."
It added: "The care, guidance and support provided for students are good.
"The positive impact of this is seen in improving attendance, punctuality and engagement in lessons."
Related Internet Links
The BBC is not responsible for the content of external sites.