Approval for revised Penrith New Squares development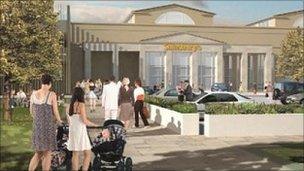 Revised development plans for the centre of a Cumbrian town have been approved, two years after the scheme stalled because of the credit crunch.
The £77m New Squares project in Penrith hit problems in 2008 when the recession led its Australian backers to pull out.
Now Eden District Council has backed plans by Sainsbury's, which will retain much of the original retail and leisure aspects of the development.
The scheme must still be sanctioned by government because of its size.
The scaled-down plans are for a superstore, car park, retail link, 189 homes, restaurants and offices, which are due to be completed by 2013.
Eden District Council leader Gordon Nicolson, said: "I look forward to working with Sainsbury's in the coming months as work recommences on site and the economic benefits to Penrith and the surrounding communities are realised.
"The council will work with the public to ensure that full advantage is taken of the economic opportunities presented by the development."
Related Internet Links
The BBC is not responsible for the content of external sites.